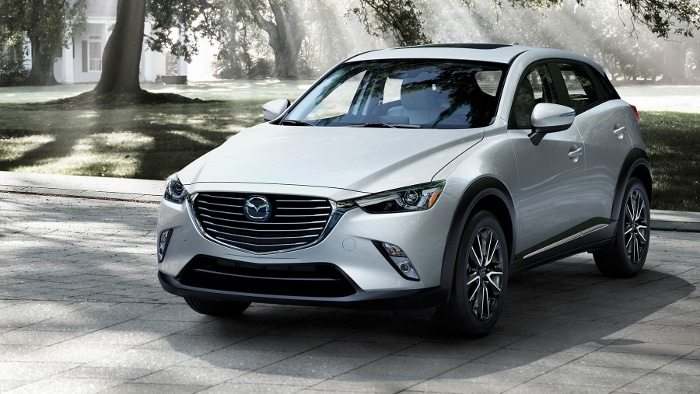 Do you ever have trouble deciding what to make or eat for dinner? Sometimes you just have to be in the mood for something in particular, like pizza or a burger, or something else. You won't have that problem when it comes to Mazda SUVs available from your Mazda dealers in Maryland. You'll always be in the mood to drive a Mazda SUV!
Our friends who make Mazda SUVs make three great ones that give you tons of superb options:
The 2017 Mazda CX-3 boasts a compact and agile size which makes for tons of driving fun. You'll enjoy its responsive and efficient 146-horsepower, 2.0-liter engine and vectoring control technology on spirited trips to your favorite pizza place or burger joint. You'll love the added traction and grip from its available all-wheel drive system when the weather turns unpleasant. And beneath its beautiful exterior design it offers tons of safety features that bring peace of mind every time for you and four additional passengers.
The 2017 Mazda CX-5 offers an elegant design with added premium features inside, and additional power to make every drive memorable. Its 2.5-liter engine produces 187 horsepower, propelling its front wheels or all four via its available predictive all-wheel drive system, which monitors conditions to provide excellent traction and handling. It offers added interior space as well with room for five passengers and space to accommodate nearly 60 cubic feet of gear and luggage, and an available power operated rear lift gate.
The 2017 Mazda CX-9 offers luxury and space, and lots of it. It can accommodate as many as seven passengers and carry as much as 71.2 cubic feet of gear and luggage. It offers lots of power as well from its turbocharged 2.5-liter engine. With as much as 250 horsepower on tap and available all-wheel drive, an elegant interior trimmed in available rosewood and Nappa leather, and a beautiful design outside, the 2017 Mazda CX-9 provides a premium SUV experience.
Whether you're interested in the sporty and compact 2017 Mazda CX-3, the versatile and fun to drive 2017 Mazda CX-5, or the spacious and luxurious 2017 Mazda CX-9, you're sure to be in a good mood every time you get behind the wheel. Come and check out our selection of Mazda SUVs near Aberdeen, MD, here at Heritage Mazda Bel Air. And get in the mood for a Mazda SUV!