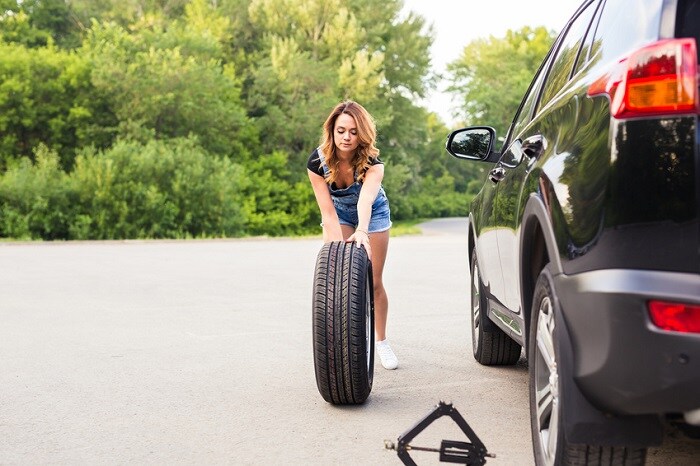 There is a lot you should expect out of a top-notch Mazda dealership: excellent service, a wide selection of vehicles, and a helpful staff are just a few, and you can find all of this and more at Heritage Mazda of Bel Air. We are 100% dedicated to our customers, and we are always expanding on what it means to be a great dealership.
At Heritage Mazda, we are committed to sharing our vast automotive knowledge, and one of the most valuable pieces of information is knowing how to change a flat tire. Flat tires can come out of nowhere and leave you stranded on the road. Fortunately, if you prepare ahead of time, you can know what to do should you encounter such a situation.
First things first, it is wise to have all the necessary equipment packed in your car ahead of time. This equipment should include the essentials: a car jack, wrench/tire iron, an air pressure gauge, and an air compressor. Of course, you also want to ensure you have a spare tire! If you experience a flat tire while driving, pull over to a safe spot and ensure you have enough space to change the flat safely. We suggest the shoulder on the highway or a side street or parking lot if you're driving residentially.
To start, loosen the wheel lugs and raise the car with the jack. Remove the wheel lugs completely, along with the flat tire. Line up the spare tire with the wheel studs and place it on. Attach the wheel lugs and tighten them. Lower the vehicle back to the ground and tighten the lugs completely. And that's it! Once the tire is snug, head over to our auto service center.
At Heritage Mazda of Bel Air, our Mazda service team is able to repair your flat or outfit your vehicle with a new tire entirely should it be deemed irreparable.
Regardless if you're looking for a new car, or hoping to service your existing vehicle, at Heritage Mazda of Bel Air, you can expect the best in customer service.