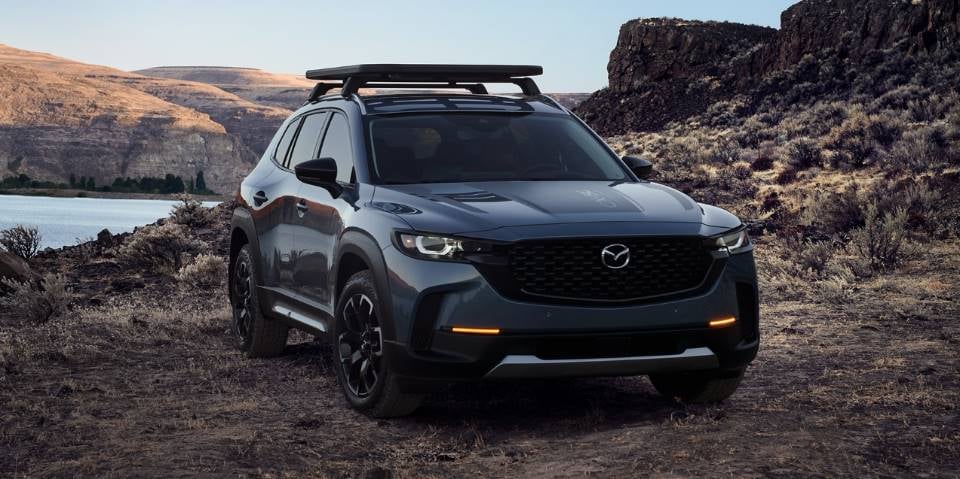 Sportiness and agility are two things that generally spring to mind when it comes to Mazda. What most people don't tend to think about, however, is off-road ability. Well, thanks to the new Mazda CX-50, that may soon change.
Power
The Mazda CX-50 comes with a 2.5-liter four-cylinder engine that produces 187 horsepower and 186 lb-ft of torque. There is also a turbocharged 2.5-liter turbo four-cylinder engine that generates 256 horsepower and 320 lb-ft of torque. A six-speed automatic transmission is standard.
Traction
One reason why the Mazda CX-50 is a good off-roader is because it comes with a very responsive traction control system adept at finding grip when terrain becomes loose or uneven. It also comes with i-Activ AWD®, along with 8.6 inches of ground clearance.
Towing
When an off-road adventure involves towing ATVs, a small camper, or other must-have equipment, the Mazda CX-50 proves very capable. While the base engine can tow up to 2,000 lb, that increases to 3,500 lb with the turbo engine. For the compact SUV class, that's a fantastic tow rating.
Turbo Meridian Edition
The Mazda CX-50 comes in a whopping 10 trim levels, and you'll want to go with the Turbo Meridian Edition if you plan to hit the trails. This trim comes with all-terrain tires and 18-inch wheels.
Take the New MAZDA CX-50 Out for a Test Drive Today
If you want to see what the Mazda CX-50 can do in action (albeit on paved roads), visit Heritage Mazda Bel Air for a test drive. And if you're ready to buy now, you can complete your purchase online or over the phone and we will gladly bring your car out to your home.